The Parachute Industry Association (PIA) Symposium is the largest skydiving industry meeting and exhibition in the world. Think BPA Expo, but American and 5 days long.
This year's happened in Chattanooga (great name, I know), TN, February 13th – 17th and the biggest news? All the new gear!
Those skydiving manufacturers just keep on innovating and there's some serious swag on the Horizon (that's a pun – read on to get it).
New Altimeters
If you're like me (a closet nerd) and data gets you going, then 2017's alti revelations are going to excite you. Squishing increasingly impressive tech onto our wrists/into our helmets, check out some of these features.
L&B Protrack 2 Audible Alti
Features include:
Four high speed (freefall) descent alarms
Four canopy descent alarms (Yes, that's EIGHT alarms per jump)
Electronic logbook
USB for connection to different L&B apps
Always on & full automatic
Available this spring.
L&B are also releasing the Ares II, Alpha and Echo autumn 2017. Stay tuned.
Alti-2 Chronos Visual Altimeter 
Available summer, this snazzy alti wouldn't be out of place in a Bond film.
Features include:
Digital altimeter
Comfortable 'wristwatch design'
USB and Bluetooth connectivity
Rechargeable
Free apps and 'cloud' storage for jump data
Wireless firmware updates
Water resistant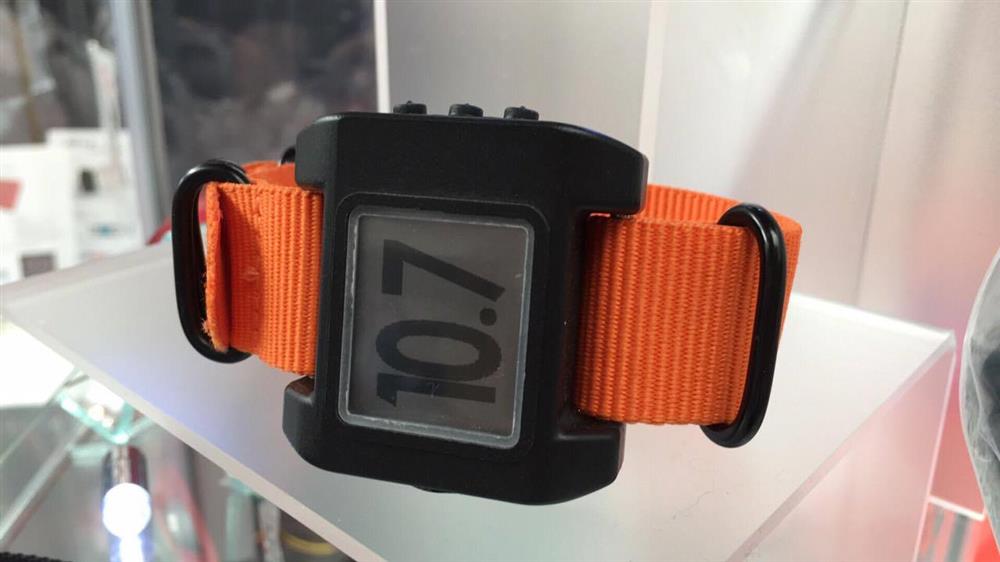 Safer Helmets – Cookie Liner
Cookie announced their M3 beginner helmet at PIA 2015, and this year confirmed it's in final testing and will be hitting the market soon.
What makes this open-face helmet special is its expandable polyproperty (EPP) liner. Normally used in snow sports, EPP offers a high level of impact protection; this helmet will be certified.
The exciting news is Cookie say this liner will be rolled out across their range, offering serious skull protection in a time when freefall collisions are a hot topic.
New Canopy – The PD Horizon
For wingsuiters choosing canopies, the priority is a clean opening despite burbly deployment conditions.
Phoenix Fly Test Pilot and top coach Jarno Cordia recommends wingsuiters should fly "a docile canopy, preferably a 7-cell, not exceeding a 1.3 wingloading". Popular choices for wingsuiters have been Storms, Spectres, and Triathlons.
But wingsuits are growing and Performance Designs are asking: what happens when your previously steady 7-cell starts giving you funky openings?
Recognising that deployment is usually the wingsuiters' most anxious moment of a jump, they were inspired to develop a new wingsuiting-specific canopy.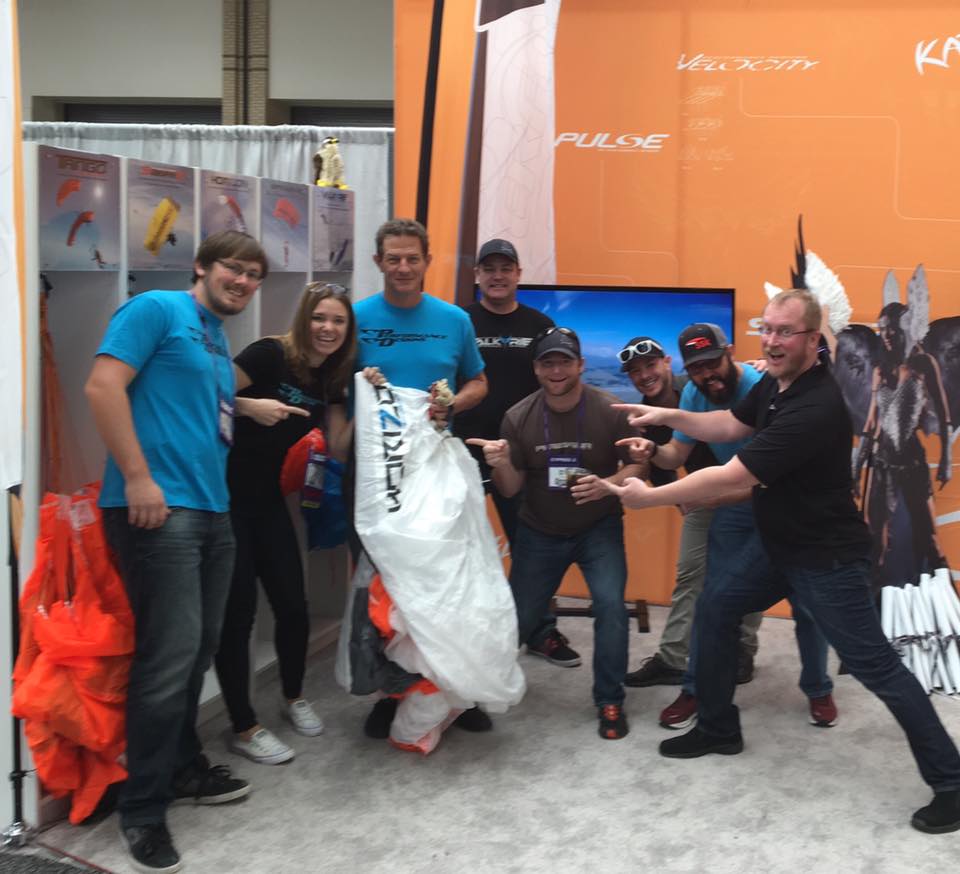 Performance Designs describe the Horizon as an "off button to wingsuiting".
Features include:
7-cell canopy
Hybrid construction of PD's proprietary low-bulk 30 denier fabric (similar to their Optimum reserve) with ZP leading edge and centre cell topskin
Packs up to two sizes smaller than a non-crossbraced ZP main (think putting a 170 in your 120-sized container)
Available in sizes 120, 135, 150, 170, 190 ft2
The Horizon is the product of four years' development. VP John LeBlanc, an avid wingsuiter, says when jumping the Horizon he "feels much at peace with it using bigger wingsuits".
Although the Horizon is primarily designed to rid wingsuiters of problematic openings, it is reportedly a fun to fly canopy with a strong flare too. So if you want to fly a magic carpet and be a badass swooper all in one jump… maybe you can?
Available to purchase from end of April.
New Container – Sun Path Aurora 
(You may have spotted the sneak-peak of this at the BPA Expo)
If you come across one of these in person, give it a stroke. Seriously. They feel divine. Gear molestation aside, this is an innovative container with a lot of new and unusual features.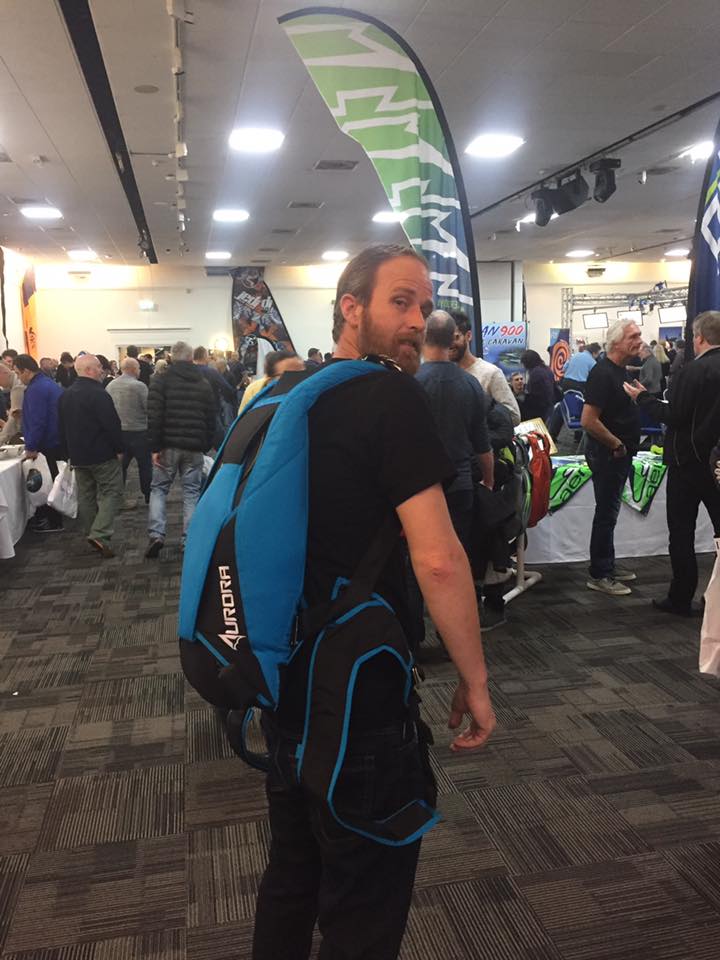 Running with the theme of "wingsuiters hate deployment", the Aurora is wingsuit-specific. The features include:
Totally new D-bag shape (rotates 180 into container, putting thickest part at top)- canopy is "spat" out the bottom straight back – super clean!
Neoprene collar, reduces air "floating" on the back, making you a seriously streamlined skydiver
Adjustable laterals – to synch the rig snugly to your back
Enormous BOC pocket
Harness height can be adjusted in just 20 mins by a master rigger
Aurora was a slow burner for Sun Path, Jeff Johnston actually had the idea many years ago. The booming popularity of wingsuiting made it the right time, a couple years ago, to put the Aurora into development.
There are a dozen Aurora prototypes out in the field, that have made hundreds of jumps, and Aurora will be released to the mass market soon.
New AAD – Wingsuit CYPRES
The WSC was announced in July at the CYPRES 25th Anniversary boogie and was also exhibited at BPA Expo, but it is now available to purchase!
If you fly a big wingsuit and want an AAD designed for the rare situations when having no control in a wingsuit puts you below regular activation height, get in touch.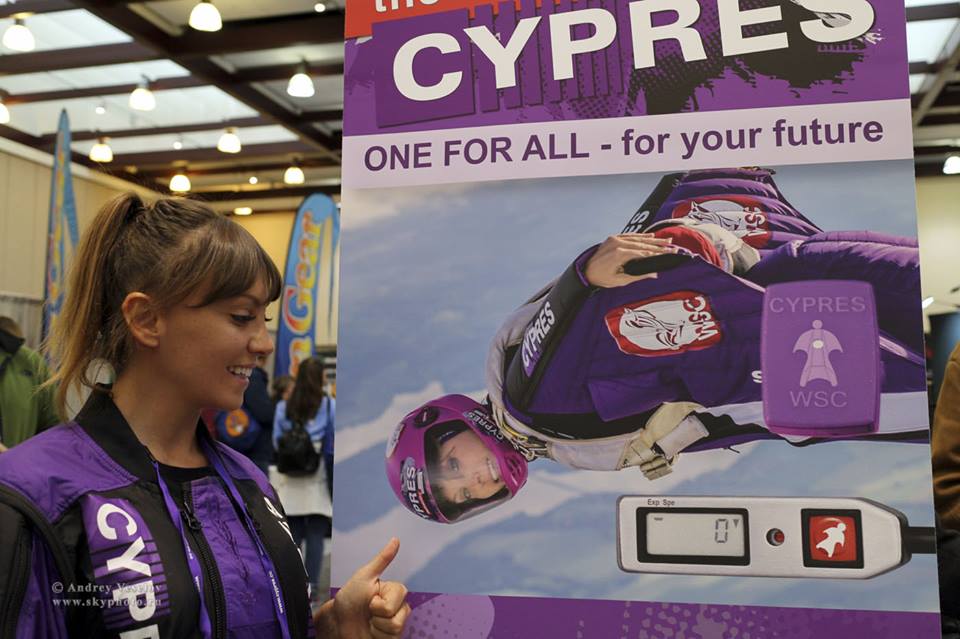 ALL ABOUT THE WINGSUITS
You can't miss the strong wingsuit theme of the 2017 PIA.
If you are considering a first flight course, I know what you're thinking – "a wingsuit and coaching was expensive enough". Don't worry – you don't need to shell out for a new container, canopy and AAD just yet. These things are for top-level wingsuiters, a regular container and AAD with sensible canopies will suit you.
If you'd like advice on selecting gear for wingsuiting, drop us an email or pop into our shop.
I Want It Now
Most the goodies we've covered are pending release. You're probably feeling a bit impatient.
If you want to be the first to know when these products become available, sign up for notifications on the Protrack 2, Horizon and Chronos by selecting "Notify me when in stock".